In an online poll conducted here, 64% of participants indicated they know someone who's lost a job.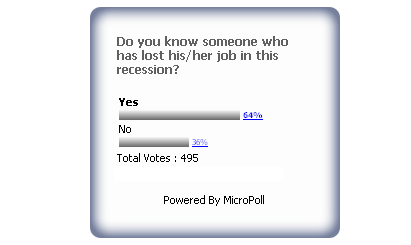 Close to 500 readers participated in the survey.
Conducted over half a month, this poll is done in the same spirit as a BBC Poll we discussed previously.
And our poll results are very similar to the UK one.
Since BBC is saying their job cuts affect 2 in 3, we can also say two-thirds of Singaporeans are affected by jobs cuts.
Sounds bad?
However, it seems the stock market and property situation here in Singapore is vastly different from that in UK.
It's euphoria here.