This recession is perhaps the most "prosperous" recession we have ever seen, thanks to all the liquidity injected into the global monetary system and our government's pump priming of the local economy with infrastructure projects, jobs credit and low interest rates.
The STI index closed today at a 10-month high of 2,533.43.
And URA reported a better-than-estimated fall in private home prices of 4.7% instead of the 5.9% announced earlier.
Now, I'm not sure if property prices will continue to fall in the next quarter.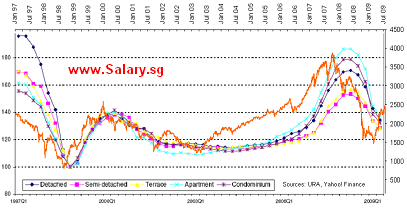 * the graph shows relationship between STI graph and URA index graph (the laggard).
But at least one prominent economist has warned of a double dip recession with the second leg coming in late 2010.
Will we see both stocks and property recover the way they did in 1998Q4 to 2000?
Or will the second dip come much earlier to surprise us all?