You can't call yourself a seasoned online shopper if you have not heard of Rakuten. Originally from Japan, Rakuten was launched in Singapore in January 2014. To date, the Rakuten Singapore Marketplace carries more than 330,000 items from almost 500 merchants. You'll be spoilt for choice looking at the diverse mix of products – from fashion apparel to beauty products, electronics to toys. You can even find food items (even pre-cooked food) and furniture on Rakuten!
Rakuten's global tagline "Shopping is Entertainment" and indeed, shopping on Rakuten is a joy because of its reward programme Rakuten Super Points. The reward programme lets you shop more for less. Through your purchases on Rakuten, you get awarded Super Points (100 Super Points are worth $1), which then you can use to purchase other products on the website.
Currently, Rakuten has a 5X Rakuten Super Point-back programme for members (sign-ups are free) who can get 5% rebate in the form of Rakuten Super Points on their purchases — on everything with no limit of the amount of rebates.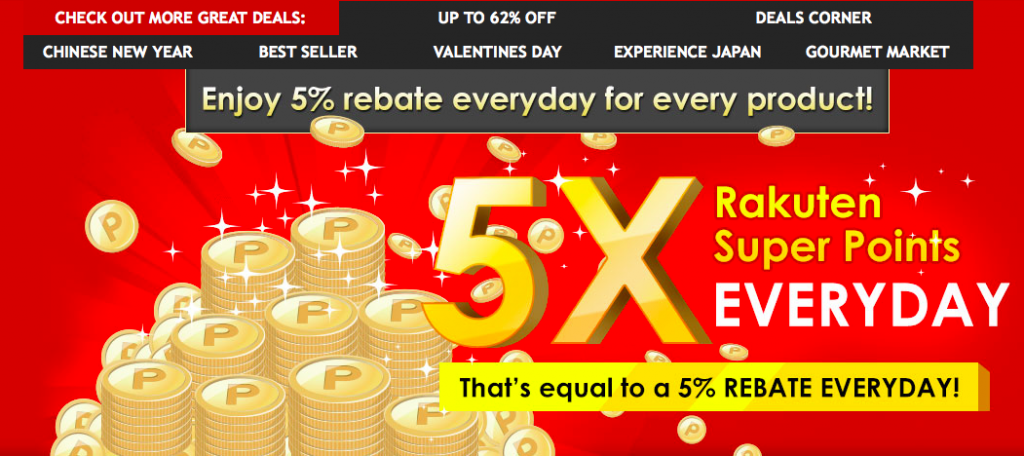 This is not the only way to get a good deal on Rakuten. Here are some shopping hacks we've found to help you get more bang for your buck:
Use credit cards that give rebates for online shopping
When you shop at Rakuten, there are some credit cards that will give you additional perks. Using them to pay for your purchases can get you more discounts and rebates.
Citi Rewards Card: 10% off storewide with code "RTCITI10″ (maximum discount of $50)
Standard Chartered SingPost Platinum Visa Credit Card: 7% cash rebate (minimum spend of $600 a month)
DBS Live Fresh Platinum Card: 6% cash rebate (minimum spend of $500 a month)
MasterCard (any bank): 5% off storewide on Tuesday + any points or rewards from your bank
Shop on Tuesdays
This is actually linked to our previous point on credit cards. MasterCard offers an additional 5% discount on your purchases on Tuesday. Not to mention, you can still clock up reward points with your bank.
Know what to buy from Rakuten
I actually learnt this from a good friend. She was shopping for furniture and electrical appliances for her new home. After shopping around at the usual brick-and-mortar shops and doing her sums, she realised that the discounts offered at those shops did not outweigh the cashback and rebates she could get if she buys the same items on Rakuten. Essentially, she bought big-ticket home appliances like refrigerator, TV etc from Rakuten, and with the Super Points she got, she went on to use those points to buy more home appliances and furniture.
Use cashback websites
You have been missing out if you have not heard of cashback websites like Shopback and Ebates. These websites help you stretch your dollar even farther by giving you cashback on your purchases when you shop with retailers featured on their websites. For instance on Ebates, you get a 5% cashback when you shop at Rakuten through Ebates. All you need to do is register an account with Ebates and click on the Rakuten link from the Ebates platform.
Buy in bulk
There are some products on Rakuten which you can buy in bulk to get more savings – this means the more you buy, the less you pay per unit. They are known as "Saver Packs" on Rakuten.
For instance, we found the Hada Labo Super Hyaluronic Acid Moisturising Lotion selling at $45.90 as a Saver Pack. Normally, these would be retailing at $66 for three. That's a saving of $20.10!
For additional savings, buy on a Tuesday with MasterCard to get a further 5% off (or S$2.30). Or you can buy it via cashback site ebate.sg with VISA within the first seven days of every month to get a 20% cashback!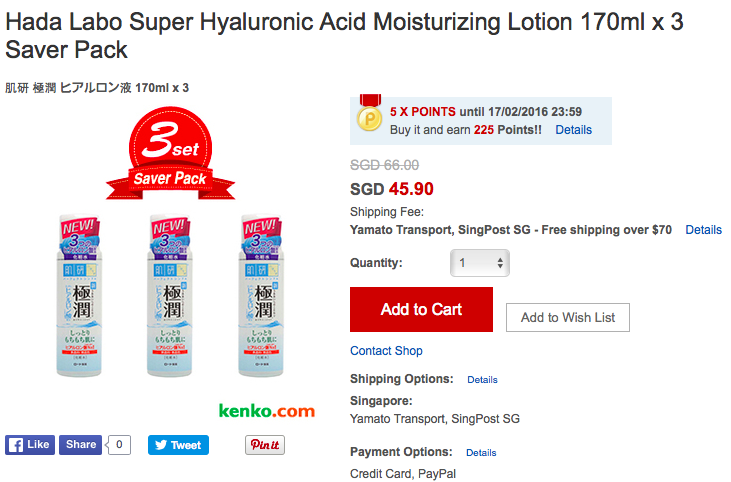 So gather a few friends to make your purchases together to save more.
With Chinese New Year and Valentine's Day around the corner, there's no better time to sign up, shop and save (armed with these hacks, of course) at Rakuten. And, the best part – sign-up is free.
CONTEST
In partnership with Rakuten, we are running a Salary.sg X Rakuten Super Points Giveaway. Simply follow the following steps to be entitled to 2000 Rakuten Super Points (worth $20) to be credited into your Rakuten account. Do note that only the first 20 valid entries qualify.
Open a new tab in your browser and go to https://goo.gl/h1TMlq to sign up on Rakuten.
Enter the email address you used to sign on Rakuten in this form http://goo.gl/forms/rSrL5S0aue
Terms and conditions:
– Applicable for new member sign-ups only.
– Contest runs from 1 to 29 February 2016.
– Points will be credited into your member account on 7 March 2016.
– Points will expire if not utilised within two months
– Rakuten reserves the right not to award points to accounts deemed as fraudulent.