In its steepest decline since its inception in 1975, the URA property price index plunged a hefty 14.1% in Q1 this year.
The URA property index tracks private home prices in Singapore.
The apparent recovery triggered by the strong sales of Alexis and Caspian condominiums in February was just a mirage.
As predicted by Salary.sg in October last year, the URA index has dropped more than 20% since it began easing 3 quarters back.
With the same technique used last year, I overlay the URA price index chart over the Straits Times Index graph (dark blue), adjust the scales of both graphs, and voila, this is what I get: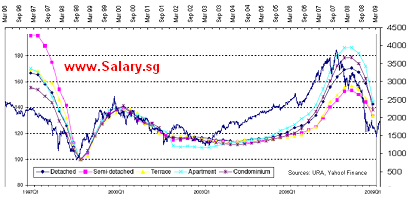 The peaks and bottoms of both graphs meet at the same levels, but property lags stocks by a few months.
It's not hard to see that property will drop further in the coming quarters.
References: URA news release of Q1 real estate statistics (April 24, 2009), Private home prices fall (ST, April 24, 2009)