The STI stock market index has plunged about 20% from its peak, but the URA property index still seems to move up exponentially.
How can this be?
Let's study the STI graph superimposed over the URA property index graph. Both graphs are scaled such that their time axes coincide, and their Asian financial crisis bottoms & dotcom peaks are at the same levels. STI is indicated by the dark blue line, while the pink line with blue crosses is for the URA index for condominiums (the other lines are for detached, semi-detached, terrace and apartments):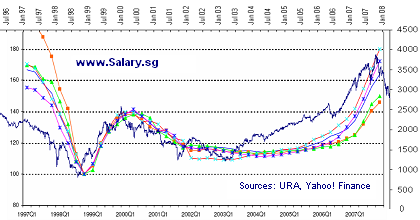 You should be able to see from the 2 graphs that the property bottom in end 1998 lagged the stocks bottom by about a quarter (i.e. 3 months). Similarly, the property peak in mid 2000 also lagged the stocks peak by about 1 to 2 quarters.
Now, fast forward to end 2007. The stock market has clearly tanked, amidst high inflation and comparatively stagnant salaries. But property is apparently still moving up, up and up! This can't continue.
I hereby predict that property prices will plunge within the next 3 to 6 months. By at least 20%.
Want more evidence? In the last month (February), property developers were so spooked by the worsening economy that they launched only 343 units in the whole country, out of which only a miserable 170 got sold (excluding ECs). Oh yeah, maybe it's the Chinese New Year.
References: URA news release and STI data in Yahoo! Finance.