In perhaps another "forward looking" article in today's Straits Times, it's mentioned that graduates are "rushing" into private banking and wealth management.
What's forward looking is perhaps the talk of these private bankers earning "five- or even six-figure pay packets in a month."
Wow.
But let's do a reality check.
A 6-figure monthly paycheck implies more than $1m in annual income. Recall the famous graph published in ST during the ministerial salary hike debate: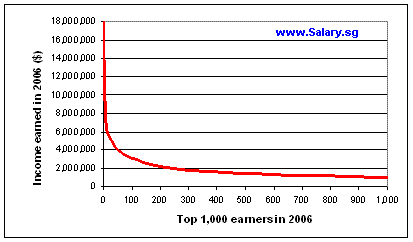 The graph shows that the 1,000th earner in the year 2006 makes about $1m that year.
So how many of the top 1,000 are private bankers? For the sake of discussion, let's make the assumption that there's an equal distribution of lawyers, accountants, bankers, MNC executives, local manufacturers and top government officials in the top 1,000 earners. (I did not include top engineers because their pay is shamefully low. See my post on ministerial salary benchmark.)
So out of the 1,000 top earners, we have 167 bankers. Say half of these are private bankers (the rest could be investment bankers, corporate bankers, top banking executives, etc).
This gives us only 80+ private bankers making a 6-figure monthly salary. I bet the actual figure is even lower.
So, if you are thinking of becoming a 6-figure private banker, you should also consider other options. Maybe it's as easy, or even easier, to be a 6-figure civil servant. Relatively speaking.