The worldwide affiliate market has succeeded in gaining acceptance and the audience's trust, making it a viable advertising tool for the collaborators. Successful brokerage firms in the forex industry are increasingly using partnership programs as a powerful tool for marketing strategy. To be successful in forex partnership program, it depends on the capacity to properly market the product and the strategy one utilizes to attract new clients.

Partnership program is a program that connects companies to multiple types of partners who provide marketing support, leads, and sales. In forex, brokers lay out a specific commission scheme for the Partners when the individual they referred to signs up as a client.
In essence, it is a marketing strategy that deploys various communication channels to assist the broker in reaching more potential leads for new client sign-ups. To exemplify, Partners could place advertisements on the website they manage, where they already have a specific target audience who visit the page on a regular basis.
One of the well-known brokers in Singapore that provide the affiliate program is XM. Check this out for more information about XM.
XM is a well-established and globally licensed online trading platform. Since 2009, XM has attracted over 10 million clients from more than 190 countries. XM offers services in 30 languages and upholds its leadership in the financial services industry through top-tier services, outstanding experiences, and educational opportunities with seasoned mentors and trend updates.
Boasting as globally regulated and award-winning brokers with 14 years of consistency, XM secured the trading services with a team powered by more than 900 skilled professionals.
Moreover, traders can diversify their portfolio through over 1000 instruments across 9 asset classes, including Forex, Commodities, Indices, Crypto, Shares, Stocks, Energies, Precious Metals, and Turbo Stocks. Traders can also take advantage of impressive execution – XM has executed over 2.4 billion trades with zero requotes or rejections, ever!
Finally, as a trader, clients can enjoy rapid deposits and withdrawals through more than 25 secure methods. And let's not forget the perks: max leverage of 1:1000, spreads as low as 0.6 pips, and impressive 50% + 20% deposit bonuses (max $5,000)!
How XM affiliate program works?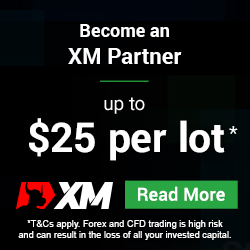 With a mission to keep pace with the market trend in trading and approach the clients' investment goals with an open mind, XM gives opportunity to the clients by offering an exhilarating program that comes together with potential earning rewards, namely XM Partnership Program.
For those who want to leverage the benefits of being a client, XM provides a Partnership Program which allows access to unlimited earning potential, with no restrictions on how much one can earn from their client referral. Also, partners will be assigned to a Personal Account Manager and get access to the Partners Area, where they can regularly monitor the funds by means of live statistics and reports.
Become a Partner or an Introducer of Business (IB) for XM and take advantage of the new commission plan that offers clients higher commissions and gives the opportunity to earn up to $25 per lot on the clients they refer to. With no restrictions on how much the Partners or IBs can earn per client, XM also pays clients an additional 10% for all the sub-partners, with no upper limit. Become a Partner Now.
On top of that, Partners can also seize the deal to earn more in the Rewards program especially made to allow the flexibility to redeem their points for cash or lucrative rewards.
For businesses that are brand new or looking for ways to expand, XM is ready to assist with innovative ideas, customised to meet the preferred strategic goals. It provides flexible solutions that might help to meet the Partners' expectations! Meet the Management (MTM) program offers Tailor-Made Partnership Plans for Existing and New Partners. Become a partner and Click Here to Book Your Seat Now!
Join XM and jump on board with the most trusted platform and let the good times roll!