If you are still considering buying properties despite this advice, and both HDB prices and private residential prices at historical high, you have to take note of the flooding factor. Ditto if you are renting a place.
Regular flooding is a recent phenomenon in Singapore. After the completion of the marina barrage, which "helped to prevent flooding", there have been several flash floods in Singapore that caused huge inconvenience and much property damage.
Notably, the basement carparks of at least 2 upmarket condos in Bukit Timah area were completely flooded, destroying the cars that were parked there. I'm not sure if insurance will reimburse those car owners. I remember that immediately after the first serious flash flood (Orchard Road), NTUC Income advertised that it will make good on claims related to flooding (or something to this effect). I have not seen any more such ad after the 2nd and 3rd flash floods (correct me if I'm wrong).
Besides Bukit Timah and Orchard Road, other noteworthy flood-prone areas include Dunearn Road, Thomson Road and Newton area.
Both PM Lee and MM Lee have come out to say that it is impossible to keep Singapore flood-free.
So, brace yourself for future floods.
The PUB has a list of 52 flood-prone zones in Singapore which the Straits Times converted into graphics form: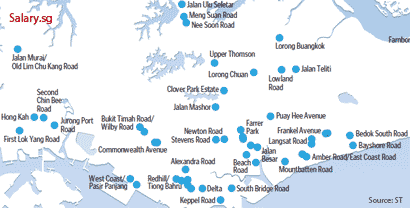 Admiralty Road West near Sembawang Shipyard
Alexandra Road/ Jervois Road/ Bishopsgate Road
Amber Road/ East Coast Road
Beach Road (Central Police Division's Staff Quarters and St John's Headquarters)
Bedok South Road
Benoi Sector
Bukit Timah Rd/Wilby Road
Cantonment Link/ Keppel Road
Chin Cheng Ave
Clover Park Estate (near the playground)
Commonwealth Ave/ Commonwealth Drive/ Queensway
CTE near Slip Road to Moulmein Road
Delta Road/ River Valley Road/ Delta Avenue
Farnborough Road
Farrer Park Area (includes Thomson Road/ Derbyshire Road)
First Lok Yang Road / International Road/ Benoi Road
Frankel Avenue/ Siglap Plain/ La Salle Street
Hong Kah Area
Indus Road
Jalan Besar Area
Jalan Haji Alias/ Coronation Road West
Jalan Mashor
Jalan Mat Jambol
Jalan Seaview
Jalan Ulu Seletar
Jurong Port Road
Kim Tian Road/ Tiong Bahru Road
King George's Avenue (People's Association HQ)
Langsat Road Area
Leng Kee Road
Buangkok
Lorong Chuan (St Gabriel's Primary School)
Lorong H Telok Kurau
Lower Delta Road/ Alexandra Road
Lowland Road
Margaret Drive/ Tanglin Road
Marymount Lane/ Marymount Road
Meng Suan Road
Mountbatten Road/ Meyer Road/ Fort Road/ Arthur Road/ Margate Road/ Ramsgate Road/ Rose Lane/ Dunman Road Area
Nee Soon Road
Neo Pee Teck Lane
Newton Road/ Lincoln Road/ Surrey Road
Old Lim Chu Kang Road/Jalan Murai
Puay Hee Avenue
Second Chin Bee Road
Service Road off Tampines Road (near Jalan Teliti)
Stevens Road/ Balmoral Road
Umar Pulavar Tamil Language Centre off Beatty Road
Upper East Coast Road/ Bayshore Road
Upper Hokkien Street/ Upper Pickering Street/ South Bridge Road/ Spring Street/ Sago Lane
Viking Road
Waterloo Street/ Albert Street/ Bencoolen Street/ Prinsep Street