9.2% of resident taxpayers made $100k to $150k in YA2008, up from 7.8% in YA2004. The increase has been gradual and consistent through the years.
In fact, all income tax brackets above the $80k mark saw a similar increase.
In contrast, it was a decreasing trend for the lower income brackets between the $25k and $50k levels.
These observations are based on our analysis of IRAS Annual Reports.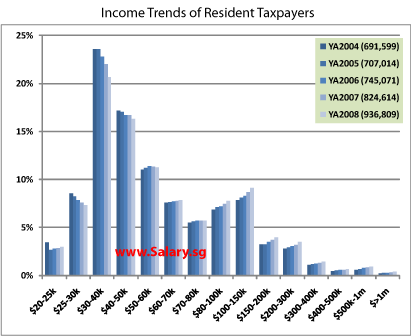 The downward trend was most pronounced in the $30-40k bracket. The proportion of resident taxpayers earning an assessable income of $30k to $40k has decreased from a high of 23.6% in YA2004 to 20.6% in YA2008.
But before we jump into the conclusion that Singaporeans are making more money, we have to note the following:
First, the data from IRAS do not differentiate between citizens and foreigners. In fact, IRAS defines a tax resident by the number days he stayed in Singapore, regardless of whether he's a citizen, PR or foreigner IRAS treats a foreigner as a tax resident as long as he's in Singapore for at least 183 days, putting him in the same group as citizens and PRs.
Second, we do not know how many Singapore citizens earned less than $20k. They are not part of IRAS' statistics. There is no further breakdown other than tax residents and non-tax residents.
Third, as shown in the legend of the chart above, the number of resident taxpayers have increased dramatically from 692 thousand in YA2004 to almost a million in YA2008.
Again, we do not know the breakdown for citizens and foreigners.
What we do know is that 36% of Singapore's population consists of foreigners, the bulk of whom are here to work, obviously. In comparison, citizens in the remaining 🙂 64% include babies, toddlers, students, NSmen, retirees, aged parents, the sick, the healthy, and of course the workers. Many are not economically active. We should thus have a smaller proportion of working adults compared to the foreigners.
I may be wrong, but I strongly think that at least 50% of our workforce are foreigners.
The increase in the number of resident taxpayers is probably due to foreigners.
With so many foreigners in our workforce, we can't be sure if it's citizens who are making more money. What do you think?