Only 267 condominiums and private apartments changed hands in the whole of November.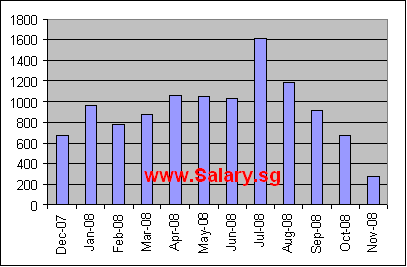 This is the fourth consecutive month of decline in non-landed private property transactions, down from a peak of 1,613 recorded in July this year.
As property agents depend on transacting deals to make a living – sellers typically pay them 2% of transacted price as commissions – I reckon they must have been quite hungry last month.
Imagine thousands of agents sharing commissions from less than 300 deals.
Will they go hungrier? You bet, going by recent market sentiments and this comment.
And what does this say about property prices? If history is anything to go by, a crash in property prices is usually preceded by a crash in the number of transactions (see this graph from Business Times).
So I say again, property must crash.
Source: Private Residential Property Transactions with Caveats Lodged, URA (link)