In case you were tempted to invest in property after reading my post on property profits, here's some sobering news.
I looked at the URA data on the property transactions for condos in districts 9, 10 & 11 that have taken place from end of 2006 to October this year.
The graph below shows the number of transactions from December 2006 to October 2007. You can see that the numbers have started falling since July.
Close to 1,200 condos and apartments in the central districts were sold in April this year, but the numbers dropped drastically over the next few months to a low of just 200+ in October.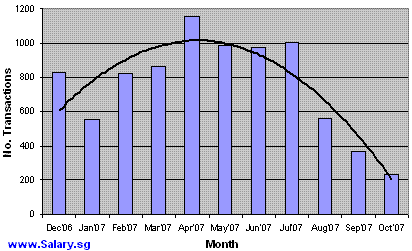 Either sellers are asking for too high a price that no one is willing to pay, or potential buyers are spooked by the subprime crisis, falling US dollar and high oil prices.
Even COE prices have fallen.