The CPF Minimum Sum will be raised to $155,000 from 1st July 2014. What is the CPF Minimum Sum and how do we "navigate" it? Can we be "exempted" from the CPF Minimum Sum?
Briefly, the CPF Minimum Sum is the amount of money you have to set aside for retirement. When you reach 55 years old, savings from your Special Account and Ordinary Account, up to the Minimum Sum, will be transferred to a new account called the CPF Retirement Account, aka CPF RA Account.
After setting aside the Minimum Sum, you can withdraw the remaining amount in your CPF SA and OA accounts. Read on to find out how you can withdraw more money.
When you reach 65 years old (assuming you are born after 1953), you will receive monthly payouts from your RA Account for about 20 years.
What happens if you live beyond the 20 years?
CPF Life Scheme is introduced to allow you to continue to receive payouts after the 20 years for as long as you live.
It is also important to note that when you reach 55 years old, you need to set aside some money for the Minimum Sum. Depending on certain factors, it can actually be lower than the Minimum Sum announced by CPF (currently $155k w.e.f July 2014), which means you can withdraw more money at age 55.
Please see the following infographic contributed by DrWealth.com (click diagram to see a larger version):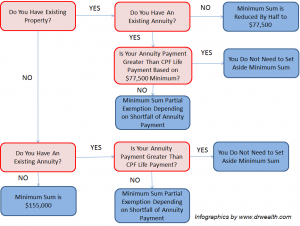 If you understand Mandarin, you may also view the following SIAS video for a rather thorough and quite entertaining explanation of the CPF Minimum Sum Scheme, CPF Life Scheme and CPF RA Account.
To see more of such posts, please Like our Facebook page: