$52,350 is the median income of all resident taxpayers for YA2008, which I calculated based on the numbers in IRAS annual reports.
You can use this income comparison tool to see which percentile you belong to.
However, the main objective of this article is to show how much the median income has grown over the years, as inspired by the Singapore Budget Speech 2010 (more on this later).
For YA2004, which assessed your income earned in 2003, the median assessable income of all resident taxpayers was $48,450.
This grew to $49,100 in 2004, then to $49,850 in 2005. It subsequently increased to $50,800 in 2006, and finally to $52,350 in 2007 (i.e. YA2008).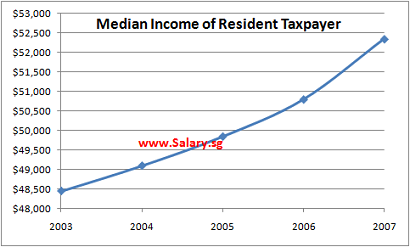 Over the 5 years from 2003 to 2007, the median income grew by about 2% per year on average. The figure for 2007 is about 8% higher than that for 2003.
However, in the Budget Speech 2010 given by Finance Minister Tharman Shanmugaratnam, the "median income" apparently grew at a faster rate, from an index value of 103 for 2003 to 116 for 2007. This is a 12.6% increase.
What gives?
Note that Mr Tharman uses median income per Singaporean household member. Further, as stated in a footnote, the data "refers to non-retiree Singaporean households" and "excludes households consisting solely of non-working persons over 60."
As an aside, we do not know if "Singaporean households" refer to households consisting of purely Singapore citizens, or a mix of citizens and PRs. To me, it is technically correct either way. Let me know if you think otherwise.
Without more details, we can only make educated guesses.
First, household sizes may have decreased over the years. Besides falling birth rates, we also have more foreigners arriving here to work. I do not think the typical foreigner brings along many dependents here. Perhaps Mr Tharman can also provide a corresponding chart that shows the median household sizes over the years.
Second, is there a special reason to exclude retiree households? We know that Singapore has an ageing population and that many baby boomers are now entering retirement. Many of these retirees depend on somebody else's income to get by. It will be good if Mr Tharman can provide an additional chart to show the number of retiree households over the years.
Anyway.
Was your income in 2007 (or YA2008) more than $52,350?