As the property market heats up again, you may be interested in buying a new home and taking up a Sibor-pegged property loan.
Do you know that the 3-month SIBOR rate shot up to an astonishing 9.5% in early 1998?
Or that it went to a low of 0.56% in mid-2003?
The following chart shows the interesting history of the 3-month Sibor rates: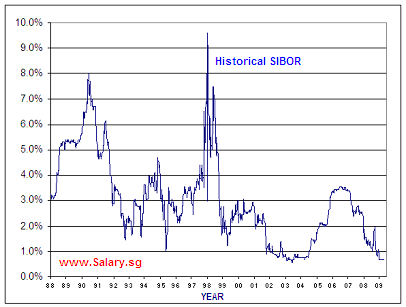 Banks that offer Sibor-linked home loans include Stanchart, DBS and HSBC. Most of them use the 3-month Sibor, while some also provide a 12-month Sibor option.
Use this MAS tool to track the Sibor rate. The 3-month Sibor currently stands at 0.69%.