In the book "The Millionaire Next Door", the authors defined prodigious accumulators of wealth as people who manage to accumulate twice their expected net worth.
To calculate your expected net worth, refer to this old Salary.sg post. (Note that I called it "target net worth" previously.)
This chart gives you an idea of how much net worth these so-called prodigious accumulators have: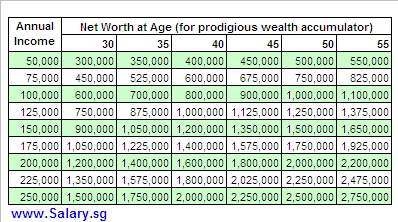 Are you a prodigious accumulator of wealth? See also related article on Income Benchmarks.